Submerged plants are rooted plants with most of their vegetative mass below the water surface, although some portions may stick above the water. One discerning characteristic of submersed plants is their flaccid or soft stems, which is why they do not usually rise above the water's surface.
American Pondweed
Potamogeton nodosus
Also known as: Illinois pondweed; Pondweed
American pondweed has oval-shaped leaves that spread across the water surface. The seed head extends above the water on slender stalks. American pondweed can form dense mats and block sunlight for submersed vegetation.
Bladderwort
Utricularia spp.
Also known as: Common bladderpod; greater bladderwort; hooded watermilfoil; popweed
Bladderworts are submersed free-floating plants. There are about 200 species in the world, ranging in size from a few inches to several feet long. Tiny bladders attached to the leaves trap and digest very tiny animals.
Coontail
Ceratophyllum demersum
Also known as: Hornwort
Coontail is a submersed aquatic plant and can be easily identified by the "raccoon tail" cluster of leaves at the end of the main stalk. It has slender stems and leather-like leaves. Coontail is called hornwort when it is sold for aquarium decorations.
Also known as: Anacharis; ditch moss; water thyme; waterweed; Brazilian Elodea
Elodea grows completely submerged. It has multi-branched stems that are slightly brittle. The leaves grow in whorls. It is introduced into ponds from the aquarium industry.
Eurasian Watermilfoil
Myriophyllum spicatum
Also known as: Spiked watermilfoil
Eurasian watermilfoil is an exotic species. Its leaves are feather-like and sometimes produce reddish flowers that extend above the water. The stems are red to brown in color. It can dominate a pond very quickly by fragmentation.
Fanwort
Cabomba caroliniana
Also known as: Cabomba; Cabomba Carolina
Fanwort is a submersed, floating plant with short rhizomes. The shoots are grass green to olive green or sometimes reddish brown. The leaves are either submersed or floating; submersed leaves are finely divided and arranged in opposite pairs on the stem.
Floating-Leaf Pondweed
Potamogeton natans
Also known as: None known
Floating-leaf pondweed has both floating and submersed leaves. The floating leaves are heart-shaped while the submersed are long and narrow.
Horned Pondweed
Zannichellia palustris L.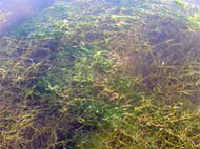 Also known as: Pondweed
Horned pondweed has long, linear, thread-like leaves. They are arranged in whorls on slender branching stems. Leaf tips taper to a point. It has tendril-like roots and slender rhizomes. The seeds are horn-shaped and form in the leaf axils.
Hydrilla
Hydrilla verticillata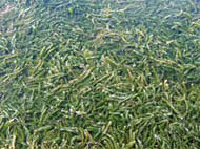 Also known as: – No listed alias –
Hydrilla is a submersed perennial plant with long, branching stems that can fragment to form large, dense floating mats. This plant flowers from June to July in warm climates. The flowers are small, white, and sometimes hard to spot.
Illinois Pondweed
Potamogeton illinoensis
Also known as: American pondweed, floating-leaf pondweed
Illinois pondweed is similar to American pondweed, and can be easily confused. Leaves are oval in shape and float on the surface of the water, and are attached to a long stem.
Naiads
Najas guadalupensis
Also known as: Water nymph; Southern naiads
The stems of naiad species are very long and have many branches. All naiads have very narrow, inch-long leaves that have definite teeth on their margins. Southern naiad leaves are less than 1/16 inch wide.
Sago Pondweed
Potamogeton pectinatus
Also known as: – No listed alias –
Sago pondweed grows from thickly matted rhizomes. It has no floating leaves. The stems are thin and have highly branched leaves, about 1/16 of an inch wide and 2 to over 12 inches long tapering to a point.
Vallisneria
Vallisneria Americana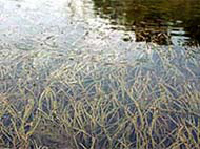 Also known as: Tape grass; eel grass
Vallisneria is a submersed plant that spreads by runners and sometimes forms tall underwater meadows. Leaves arise in clusters from their roots. The leaves have rounded tips, and definite raised veins.
Variable-Leaf Watermilfoil
Myriophyllum heterophyllum
Also known as: Northern Milfoil
Variable-leaf watermilfoil has long stems with whorls of finely divided leaves. This milfoil is rooted in the bottom of water bodies and arise to the surface of the water. When they reach the water, the stems turn and grow horizontally.