Emerged plants are rooted plants often along the shoreline that stand above the surface of the water (cattails). The stems of emergent plants are somewhat stiff or firm.
Alligator Weed
Alternanthera philoxeroides
Also known as: Scum; water net; frog spittle; moss
Also known as "pond scum" or "moss," this type of algae can form dense, hair-like mats on the water's surface. If left untreated, the mats can cover the entire surface of the pond. There are many species of filamentous algae and often more than one species will be present at the same time in the pond.
American Lotus
Nelumbo lutea
Also known as: Mistaken for yellow water lily.
Floating leaves are circular, and are attached to stems that are anchored in the soil. The leaves create a bowl-like appearance and do not lay flat on the water surface. Yellow flowers emerge from the plant.
Arrowhead
Sagittaria lancifolia
Also known as: Lance-leaved arrowhead; broadleaf arrowhead; duck potato
Arrowhead is a shallow aquatic weed with leaves that are shaped like an arrow. (They also resemble a wishbone.) Leaves are above the water most of the time, but can sometimes be submersed or floating.
Also known as: Riverwillow
Black willow is seen as both a shrub and a large tree. It often has multiple trunks, each with many branches coming from each. Black willows are found in places with an abundant water and sunlight supply. Black willow leaves are long and thin.
Buckthorn
Rhamnus fragula
Also known as: Alder buckthorn; glossy buckthorn
Buckthorn is a small tree or shrub that can reach up to 20 – 25 feet in height. However, it most often grows as a shrub. The inner back is orange, and the outer back is dark gray or brown. Female plants produce a large amount of deep purple berries.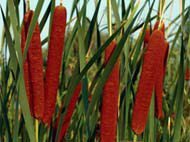 Also known as: Tullies
Cattails have dense, "sausage-like," spikey flowers, called the catkins that appear on top of the long, slender stems in late summer to early fall. Cattails can be partially submerged or in boggy areas with no permanently standing water and can grow to 5 feet in tall.
Creeping Water Primrose
Ludwigia hexapetala
Also known as: Pennywort; navelwort; many flowered pennywort
Dollarweed is also referred to as pennywort. The leaves are round in shape and approximately one inch in diameter. The leaves are dark green and glossy with scalloped edges. The petiole of pennywort is attached to the center of the leaf.
Maidencane
Panicum hemitomon
Also known as: Confused with: torpedo grass; para grass; cupscale grass; blue maidencane
Maidencane is part of a family of perennial grasses that are common but somewhat hard to tell apart. Maidencane can grow up to 8 feet tall and often forms dense colonies. It has long, narrowly tapered leaves that grow up to 12 inches long and 1 inch wide.
Pickerelweed
Pontederia cordata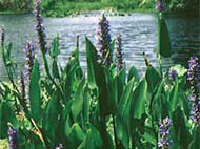 Also known as: None known
The native pickerelweed is a very common emerged plant. It is a prolific grower and can cover large areas. Pickerelweed typically grows to about 2 to 3 feet tall. Its leaves are large, up to five inches wide, and are usually twice as long.
Poison Ivy
Toxicodendron radicans
Also known as: None known
"Leaves of three, leave it be." Poison ivy can appear as a ground cover, a shrub, or as a vine growing up a tree. It likes to grow in places where it is moist. Older vines are covered in fibrous roots resembling hair that grow into the supporting tree.
Poison Oak
Toxicondron P. Mill.
Also known as: None known
The name Poison Oak is often applied to the shrub-like forms of Poison Ivy. Poison Oak of the southeastern United States has its leaves divided into three leaflets; the leaflets are densely haired and generally have three to seven distinct lobes.
Purple Loosestrife
Lythrum salicaria
Also known as: Lythrum; rainbow weed; salicaire; spiked loosestrife
Purple Loosestrife is a herbaceous perennial plant that grows 3 – 6 feet or more in width with numerous erect stems growing from a single woody root mass. The stems are reddish-purple and square in cross-section.
Smartweed
Polygonum hydropiperoides
Also known as: Water Pepper
Smartweed is a perennial plant that forms dense colonies in shallow water or moist soils and can grow to 3 feet tall. Smartweed leaves are oblong, and stems are jointed. Leaves are arranged alternately upon the stem. Flowers are white or pink and are small.
Torpedograss
Panicum repens
Also known as: – No listed alias –
Torpedograss is a non-native grass. The rhizomes are extensive and stems are rigid. Leaf blades are narrow, up to 10 inches long and approximately 1/4 inch wide. The plant is grayish-green with thin hairs on the upper surface.
Water Chestnut
Trapa natans
Also known as: Bullnut; water nut, Trappa Natans
Water chestnut is an annual, rooted aquatic plant with a leafy rosette that floats on the surface. Stems can reach up to 16 feet, supporting two types of leaves. Submersed leaves are feathery, whorled along the stem and up to 6 inches long.
White Water Lily
Nymphaea odorata
Also known as: Fragrant water lily
The white water lily is a perennial plant that often forms dense colonies. Water lily is one of the most recognizable floating aquatic plants. Sold as decorative plants for ponds and water gardens, this species can spread rapidly if left unmanaged.
Yellow Water Lily
Nymphaea mexicana
Also known as: Mexican Water Lily
Yellow water lilies are perennial plants that arise on flexible stalks from rhizomes and large fleshy roots that can resemble bananas. Leaves are oval heart-shape, 3 to 6 inches in diameter, shiny dark green on top and reddish-purple underneath.